We offer the only state-based carbon neutral certification in the United States.
Focusing exclusively on Colorado, a hotbed for innovative practices and forward thinking, residents are more likely to purchase products and use the services of businesses who take responsibility for their impact and community.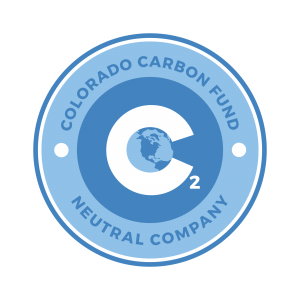 Choosing to reduce your impact by going carbon neutral will increase your profits, improve your customer loyalty, differentiate your business from the competition, and showcase your social responsibility to Colorado.
Principles:
Our approach ensures that we deliver accurate and high-quality data to both businesses and individuals. We use the Greenhouse Gas Protocol, the global standard in GHG assessment, to collect and calculate our data in the most accurate and globally accepted format.
Data Integrity:
Ensure that the data and methods we apply to sustainability consultation and GHG assessments is relevant, accurate, and credible.
Communication:
We continually update the business or individual we are providing services to with updates on where the project stands. If any difficulties arise from the work we intend to deliver, the client is notified and included in the decision-making process to fix the problem.
Consistency:
Use consistent methodologies to allow for meaningful comparisons of emissions over time. Transparently document any changes to the data, inventory boundary, methods, or any other relevant factors.
Transparency:
The data and methods used to conclude decisions applicable to our sustainability consultation and GHG assessments is readily available to provide full disclosure of the tools used to obtain results.
Contact us at (720) 684-6580 or via email at [email protected] for a preliminary consultation or further information.